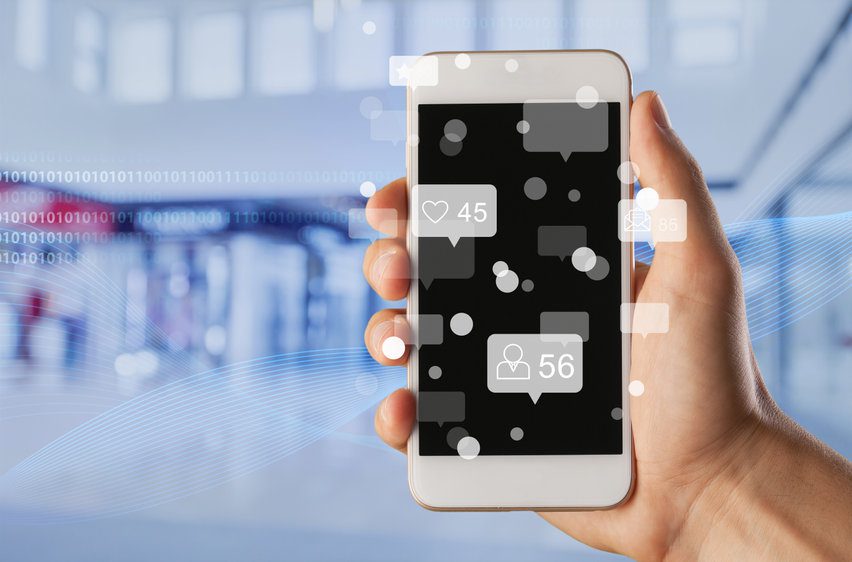 Social media marketing is all the rage now and for a good reason. For starters, as of October 2021, an overwhelming 4.55 billion people are active on social media. Additionally, people tend to spend an average of 2.5 hours on social networks and messaging. So it's no wonder that social media is able to not only helps brands promote their products, but more importantly, enables the brand to develop a deeper and emotional connection with the customer instead of a solely transactional relationship.
The writing is on the wall: social media marketing is here to stay. Brands that do not capitalize on this will eventually fall behind the competition and suffer huge losses in the form of lower sales and unhappier customers. As a result, drafting a customer-obsessed and strategic social media strategy has emerged as a must-have for brands today.
This blog will look at five tried-and-tested social media marketing tips to help your medical spa grow. So let's jump right in.
Top 5 Social Media Marketing Tips to Boost Your Medical Spa Business
1. Be where your consumers are:
The first rule of any social media marketing campaign is understanding which channels and platforms to leverage. Naturally, you'll want to be active on your customers' frequent platforms. From Facebook and Instagram to Snapchat and TikTok, there are plenty of platforms to consider. So do your homework, gather data on the top-most active platforms, and chart out a social media marketing strategy accordingly.
Ideally, start with the two most-relevant platforms and then branch out your presence. Aim to gather demographic information such as the number of monthly active users, age group, gender, and time spent on the platform per day for every channel that you wish to go social on. Leveraging these insights can better inform your branding strategy.
2. Leverage different kinds of social proofs
If you want to gain your customer's trust and loyalty, think about how best to demonstrate video-driven customer testimonials as well as written reviews. You can ask your loyal, returning customers to provide their feedback via social media surveys, polls, or simple video testimonials and share the results on all social media channels.
For example, Willow Med Spa uses the simple-yet-effective 'Before and After' image strategy to demonstrate their customer's testimonial: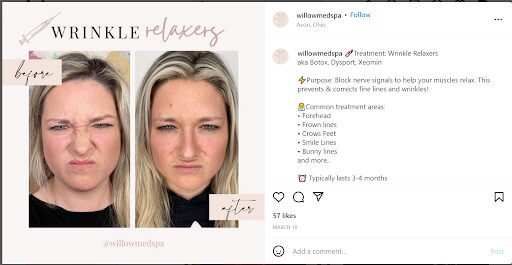 Since customers trust the word of their peers more than the business' itself, this strategy can do wonders for your brand.
3. Make it easy for customers to find you on social media:
Posts, hashtags, comments, tags, and so on are different kinds of tools you can use to get customers to your brand's metaphorical door. If you don't want users to get lost in a sea of competition, make it easy for users to find your brand. Insert the website link at strategic places within your social media post. Always insert the share button across collaterals, be it emails or social media posts, to drive traffic to your business' collective social media channels.
The end goal should be to leave your footprint across social media channels to the extent possible and as organically as you can.
Pro tip: As a thumb rule, try including SEO best practices across your blogs as well as social media posts so that your brand is always visible and accessible for the end customer.
4. Be realistic about the content:
In the med spa business, it can be easy to go overboard or make exaggerated claims about the treatments. All brands should focus on creating honest and authentic posts that accurately promote their products/services and set the right expectations with customers. To that end, brands should encourage an open, two-way dialogue with customers and actively talk about the treatment side-effects (if any).
5. Maintain consistency across posts:
Social media marketing is all about branding and presenting your brand in a consistent light. From designing and aesthetics to the content tone and overall style, every social media post that goes up should be coherent.
Apart from this, brands should also leverage insights into what kind of posts are garnering more viewership, on which days do customers actually read the content, at what time are users engaging with the brand's posts, and so on.
Leveraging these types of actionable insights can empower your brand to make the most of your social media strategy while maintaining consistency of style, tone, imagery, and messaging.
6. Understand the content type to use for each platform:
As per a survey done in 2017, more and more users wish to see before-and-after photos. Plus, useful content on the treatment and procedures used or being done live as well as video-driven content gets a big thumbs up from customers. Brands should keep these pointers in mind and curate content accordingly.
The more the content resonates with the end customer, the higher the chances of social media engagement and the likelihood of a greater number of followers (as well as likes!).
In Summary
Social media marketing can improve brand affinity and help businesses' to connect deeper with their target audience. If you're looking for a social media marketing agency that can understand your unique marketing needs, help you stand out from the crowd, and provide customized social media marketing solutions, Outrageous Digital can help. Connect with us and let's go social together.